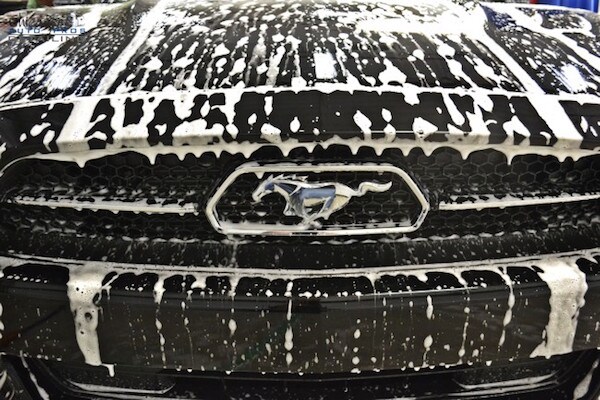 When the weather becomes warmer and the sun returns on a regular basis, it is a call to get the vehicle cleaned up for the new season.
Often, that means running it through a car wash, getting the salt and sand from the road and shining it up for better days. By doing so, it is only scratching the surface. What a vehicle needs is something more comprehensive and a much deeper clean than a regular car wash would do.
It needs a complete detail job!
How do automotive professionals detail their vehicles? Here are simple steps you can take to make your vehicle shine this weekend.
1. The Wheels - Use a wheel brush, along with a wheel cleaner and degreaser to thoroughly clean the wheels. A sidewall cleaner is to be used on the tires, not just for shine, but for a deep clean. 
2. Under The Hood - Wrap up wiring before cleaning the engine bay. A degreaser is applied to remove any particles from the wires. A vinyl/rubber cleaner/protectant is used for non-metal parts under the hood - plastic housings, in particular. 
3. Wash By Hand - Washing the car by hand is best by using specific car wash detergent. Two pails will do the job --one with the car wash cleaner mixed with water, the other with clean water. Use a deep-pile terrycloth microfiber cloth to wash the vehicle thoroughly. Never use dishwasher or any other detergent, as they will ruin the paint job and the extra coating protecting the paint! After applying the car wash solvent, spray the exterior to minimize bubbles or other residue. Use a microfiber or chamois cloth to dry down the vehicle.
4. Clean & Wax - First, use a glass cleaner for the outside of the windows. Go deep into the wheel wells to remove residue and grease with an all-purpose cleaner and a high pressure rinse. Use a liquid clay bar to remove any bonded contaminants from the vehicle. Last, but not least, apply car wax for that final touch to make your vehicle shine.
5. The Inside - First, remove any loose wrappers and change that may have been jammed under the seats or in any of the nooks & crannies of your vehicle. Remove the floor mats and give them a good shake to remove any dust or dirt. Vacuum the flooring, floor mats and seats and be sure to use the crevice tool to get those hard to reach places. Once that's finished, apply glass cleaner to the windows and give them a good thorough wiping. Be sure to use specialty interior cleaners from the automotive parts store to clean your dashboard and interior and test them in an inconspicuous area of your interior first. Always use a dust-free microfiber cloth to ensure that there is no residue left behind!
If time or effort is not available to do a thorough detail on your vehicle, Suburban Ford of Sterling Heights is happy to do it for you. A detail every quarter helps to make that vehicle clean and shiny for the entire season. 
Isn't it about time for that vehicle to get its quarterly detail?